My Account
Already customer
We've sent you an email with a link to update your password.

Passionate about Art in all its forms, our in-House Perfumer Jean JACQUES draws his inspiration from
music, painting, but also poetry, his preferred path to unleash his imagination.
He designs five Colognes Sublimes as vibrant as they are unique. He intensifies the freshness of the essential citrus accord in an
unexpected combination of flowers and spices that can be combined for both men and women

L'INVISIBLE QUI LUIT
The first light as dawn breaks, a journey into the heart of the Mediterranean hinterland.
L'Invisible qui Luit is a futurist cologne. You will recognise the invigorating freshness of essences of bergamot and lemon, the sweetness of neroli and a French lavender essence. A "platinum" accord with metallic accents that gives them a highly contemporary twist and enhances the radiance of a powerful floral bouquet.

CHAMP BLEU DU CIEL
It's the end of the morning, a breathtaking view on a hillside in Los Angeles.
Champ Bleu du Ciel is a radiant signature scent which opens on slightly bitter and tangy top notes of grapefruit essence. Intensified by vibrant bergamot and lemon, the fiery and fresh citrus fruit note is lifted by the spice of a pink pepper CO2 extract. Alongside the woody essence of vétiver from a responsible channel certified For Life, iris concrete bestows its powdery notes to the lavender and musk.

IVRE DE LIBERTE
Early afternoon, a moment of idleness off the Pacific.
Ivre de Liberté is a Cologne combining bergamot and lemon, the ginger note acts as a breath of fresh air with an invigorating effect. The floral and aromatic heart notes expressed through the orange blossom, lavandin and exotic verbena evoke a gentle evolution. Used in excess, white musk creates a silky scent.

L'INVITATION AU VOYAGE
End of the day, ceylon island, above the cinnamon plantations.
L'Invitation au Voyage combines freshness with sensuality. Top notes of sparkling, zesty mandarin and bergamot essences are blended with the green, watery notes of the violet leaf. Heart notes of orange blossom absolute and geranium essence are gradually warmed by cinnamon essence. Lifted by elegant cedarwood and guaiac wood.

L'HEURE VAGABONDE
It's a clear night, a stroll through prose along the Seine under the starry sky of Paris.
After a refreshing start revealed through a blend of lime, bergamot and ginger, Jean JACQUES offers textured warmth to L'Heure Vagabonde with a tobacco absolute. A precious and remarkably faceted ingredient, Balkan tobacco is elevated by essence of guaiac wood, Indonesia patchouli and Haitian vetiver.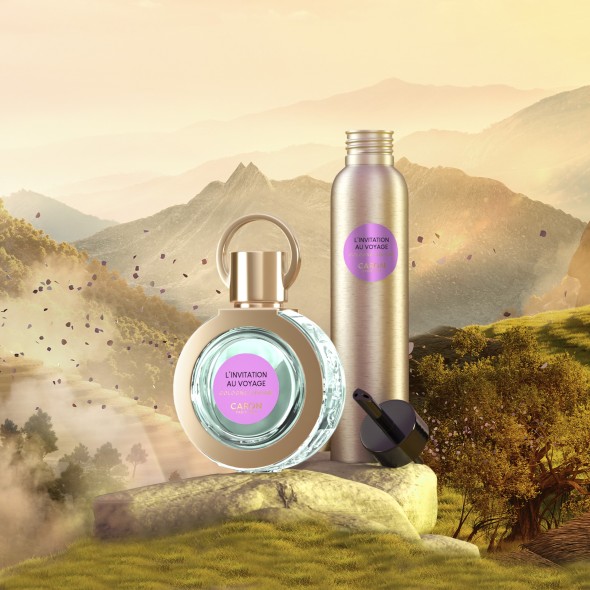 Infinetely refillable
Refill forever your Colognes Sublimes. All bottles of La Collection Merveilleuse are refillable.
An aluminium refill is sold separately so you can fill your bottle at home with the provided spout, again and again.
Colognes Sublimes - Discovery Set
Discover the Colognes Submiles collection with this Discovery Set of five 5 ml sprays. This collection invites you to escape to a different world with five fragrances as sparkling as they are unique.
This set contains one:
– L'Invisible qui Luit, 5 ml spray
– Champ Bleu du Ciel, 5 ml spray
– Ivre de Liberté, 5 ml spray
– L'Invitation au Voyage, 5 ml spray
– L'Heure Vagabonde, 5 ml spray
CUSTOMIZE YOUR SET
Jean JACQUES, CARON's in-House perfumer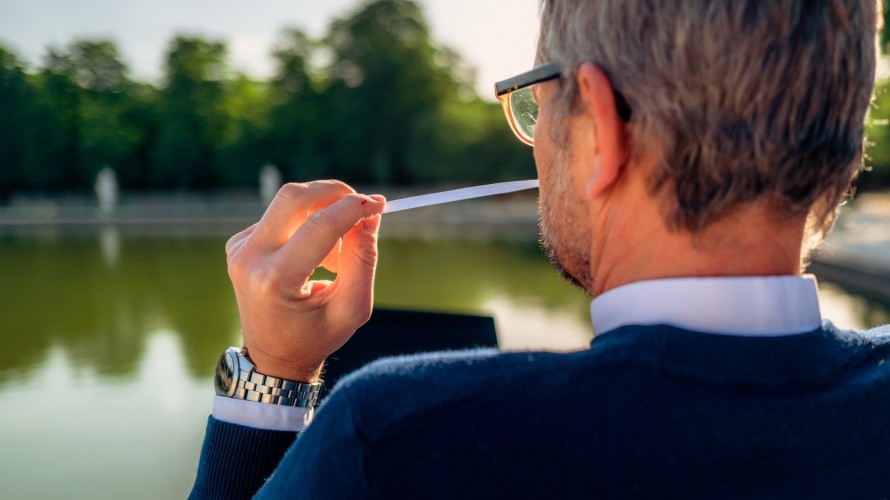 You must accept cookies to play this video