My Account
Already customer
We've sent you an email with a link to update your password.
THE MONACO FORMULA 1 GRAND PRIX

The Monaco Formula 1 Grand Prix
This year, Maison CARON was present at the prestigious 80th Monaco Grand Prix.
On this occasion, an immersive and sensory pop-up was created and installed at the Fairmont Hotel, showcasing the universe of one of our latest creations, Musc Oli.
Simultaneously, our location in a suite with a breathtaking view of the famous turn of the circuit was the perfect place to welcome influencers, allowing them to discover our Maison in a private and exclusive setting.
Lastly, we had the pleasure of collaborating with Lilly's Club during exclusive evenings featuring performances by internationally renowned artists and rappers.
Maison CARON is honored to have associated the elegance of Haute Parfumerie with this exceptional event, leaving its fragrant imprint in the history of the Monaco Grand Prix.
Discover
La Maison CARON x VICTORIA/TOMAS
PARIS FASHION WEEK AH 2023-2024

La Maison CARON x VICTORIA/TOMAS
For the first time, Parfums CARON has collaborated with a ready-to-wear brand to create a unique capsule collection, inspired by its heritage, innovation and uniqueness. VICTORIA/TOMAS has developed a collection of bold silhouettes inspired by three fragrances:
– Tabac Blond (1919)created for men, Tabac Blond launched at the start of the Roaring Twenties, was massively adopted flappers, those slender women who displayed themselves in trousers, worked, drove and smoked. This avant-garde perfume of great elegance became the symbol of their emancipation.
– Pour Un Homme de CARON (1934)combines lavender and vanilla in a new and innovative way and is recognized as a masterpiece of modern perfumery. Its trail embodies an olfactory revolution.
– Musc Oli (2023) Co-created by Olivia de Rothschild and Jean Jacques, the perfumer froom Maison CARON, Musc Oli is a fascinating exploration. A bold fragrance that opens the doors to a world that is both singular and familiar: our inner world.
Discover
Pour Un Homme de CARON Le Soir
COSMETIQUE MAG 2022 GOLD AWARD

Pour Un Homme de CARON Le Soir
We are delighted and proud to announce that our perfume POUR UN HOMME DE CARON LE SOIR has won the 2022 Gold Award in the category of Men's Fragrance.
Pour Un Homme de CARON is a perfume created in 1934 that has marked the history of perfumery. We are writing this year a new chapter around this iconic fragrance, with a new communication campaign and the creation of two new fragrances, including Pour Un Homme de CARON Le Soir.
Pour un Homme de CARON Le Soir is a sensual, nocturnal lavender created by our in-House perfumer, Jean JACQUES, around two major ingredients: lavender the emblematic ingredient of Pour Un Homme de CARON, and an oakwood extract from upcycling, it recovers sawdust from the manufacture of Cognac casks. We extract the scent of oaks over 200 years old that are worked during the manufacture of cognac casks and that develop particularly opulent and smoky notes.
Discover
The digital campaign
We are pleased to announce that our digital and mobile campaign POUR UN HOMME DE CARON has won the 2022 Gold Award!
Pour un Homme de CARON is a perfume that knows an uninterrupted success for almost 90 years and that has transcended generations. Through this campaign we wanted to highlight the different facets of today's men.
This campaign has been created around five short movies, in which five character traits of the CARON man have been highlighted: audacious, generous, dreamer, passionate and flamboyant.
This campaign stands out by breaking the codes, with a cinematographic and artistic treatment in a spectacular scenery and carried by a talented ambassador: Tahar RAHIM.
Discover

Poivre Sacré
The House of CARON has received the prize for Best Niche Fragrance 2022 – Major Brand's Collection category for its perfume Poivre Sacré. This is the second year in a row that CARON has received an award from the Fragrance Foundation France. After a blind-smell selection process carried out by industry experts, Poivre Sacré won for its olfactory qualities and the emotions it provokes.
This prestigious prize rewards the House of CARON for its strategic decisions made under the guidance of Ariane de ROTHSCHILD since its acquisition in 2018. A vision guided by bold choices that echo CARON's history and a desire to keep the spirit of Haute Parfumerie alive, a spirit that has inspired the House since it was founded in 1904, all while anchoring itself in modernity. This spirit is reflected in our opulent creations, bursting with beautiful raw ingredients that are often excessively dosed.
Discover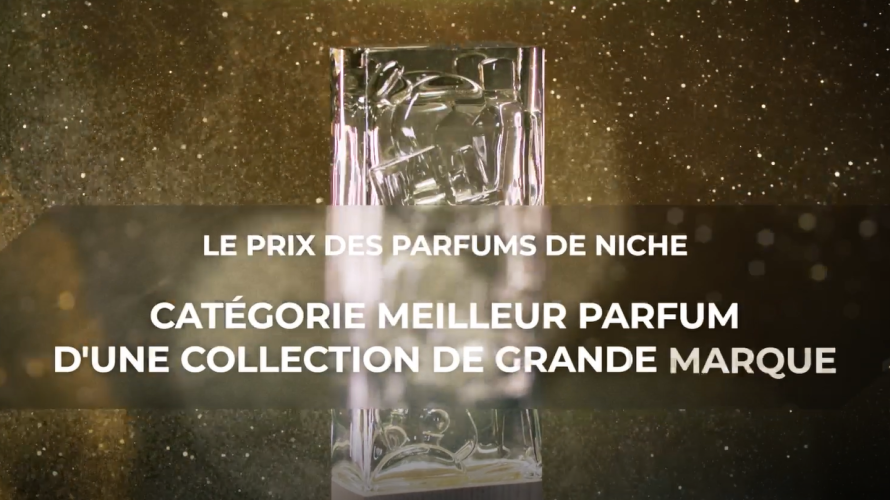 You must accept cookies to play this video
Aimez-Moi Comme Je Suis
2021 FRAGRANCE FOUNDATION FRANCE AWARD

Aimez-Moi Comme Je Suis
La Maison CARON has won the Professional Award in the Best Men's Bottle Design category at the 2021 Fragrance Foundation France Awards, for its perfume AIMEZ-MOI COMME JE SUIS.
This bottle is a tribute to our iconic Pour Un Homme de Caron, with the same subtly fleshed out, boxy frame that evokes the comfortable shoulders of the Caron man.  Our new creation proudly asserts its difference in its style and architectural lines. Its "gunmetal" cap and plaque have a mirror-finish, meaning AIMEZ-MOI COMME JE SUIS will always reflect the man who wears it.
Inside this bottle is our manifesto fragrance: an unexpected duo of hazelnut and Haitian vetiver. With its amber woody accents, AIMEZ-MOI COMME JE SUIS is the signature of a man who fully embraces who he is: free and liberated.
Discover