My Account
Already customer
We've sent you an email with a link to update your password.
Close
Your personalised perfume becomes unique
Do you dream of buying a personalised perfume?

There are two ways to render your bottle unique:
either by engraving initials, a first name or a message on your bottle or by adorning it with one of our 5 Marvellous Ornaments - enamelled discs gilded in fine gold.

Your bottle will be transformed into an original piece and will make an unforgettable gift, for yourself or your loved ones.

Narcisse Noir - [[% translate(base_variant.option1) %]] [[% translate(base_variant.option2) %]] [[% base_variant.price | money %]]
Add to Cart
[[% engravedText %]]
Engraved bottles cannot be returned or refunded.
Narcisse Noir - [[% translate(base_variant.option1) %]] [[% translate(base_variant.option2) %]] [[% base_variant.price | money %]]
Total of your creation [[% total | money %]]
Add to Cart
Adorn your bottle with one of our 5 Marvellous Ornaments - enamelled discs gilded in fine gold.
Blue, Red, Green, Yellow or Rose.. Your Marvellous Ornament will be in perfect harmony with both your scent and your mood!

[[% translate(disk.title) %]]
Narcisse Noir - [[% translate(base_variant.option1) %]] [[% translate(base_variant.option2) %]] [[% base_variant.price | money %]]
Total of your creation [[% total | money %]]
Add to Cart
White Flowers
Parfum
"A mythical fragrance where ambivalent orange blossom meets voluptuous sandalwood."
Jean JACQUES, CARON's in-House perfumer Read more [...]
Try it! A trial dose in your order to discover before opening.
Engrave your bottle with name, initials or date, or decorate it with a beautiful ornament. Choose your 100 ml perfume to personalise it
Try it first
before opening !
Exclusive online services
Description
A cult classic! An unforgettable scent with a scandalous reputation…between radiance and the depths of darkness, Narcisse Noir opposes two very different notes. Fresh and dazzling, neroli essence reveals its most radiant facets. An overdose of Mysore sandalwood essence infuses the perfume trail with the powerful velvety scent of this precious wood from India. The contrast between the two is radical. Totally hypnotic.
This creation captures several orange blossoms essences. The floral freshness of neroli. The green notes of petitgrain. The honeyed animal nuances of orange blossom absolute.
Narcisse Noir is the epitome of sensuality, a perfume trail that spells double trouble!
Story
With an unforgettable scent and a reputation for sensuality, our first major success has become an icon of perfumery. Launched in 1911, it revealed one of Ernest Daltroff's most burning obsessions: white flowers. For his whole life, our founder was fascinated by these dual flowers, both innocent and untamed, luminous and full of mystery. Narcisse Noir is a memorable confession of those traits. Fashioned like a chiaroscuro, this fragrance is an impressive ode to the two faces of orange blossom. The tiny flower becomes a grand diva! Dramatic and exuberant, it exhibits its immense beauty – but also its darkest moods. This fragrance is a masterpiece of audacity and creativity, a legend at the peak of sensuality. It's the signature of a feline woman with an untamable spirit. An angel and a demon at the same time.
DID YOU KNOW? As our most dramatic fragrance, this masterpiece was sure to please the stars of cinema. In 1947, it gave its name to the English film Black Narcissus, directed by Michael Powell and Emeric Pressburger. Three years later, on the set of Sunset Boulevard by Billy Wilder, the Hollywood star Gloria Swanson is said to have required that all the sets be sprayed with her cherished perfume: Narcisse Noir, as you will have guessed. True or not, this rumour has only served to feed the myth, making CARON a legend.
La Collection Merveilleuse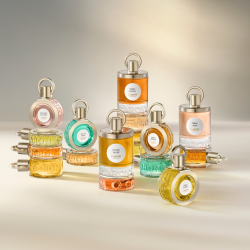 La Collection Merveilleuse wears its name well. Combining the gems of our heritage with very contemporary creations, every last detail illustrates the overwhelming creativity, daring spirit, and generosity of our House. Refillable, stackable and customizable, the O bottle is our emblem. Free to be different, La Collection Merveilleuse is the most beautiful expression of French Haute Parfumerie by CARON.
Ingredients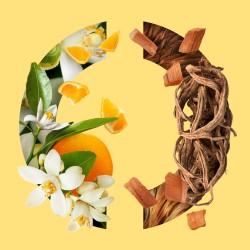 Around ORANGE BLOSSOM: Neroli Essence | Petitgrain Essence | Orange Blossom Absolute | Orange flower water absolute | Jasmine | Rose
Around SANDALWOOD: Mysore Sandalwood essence | Haitian Vetiver essence (IFF For Life) | Musks
Our ingredients lists are regularly updated. Before using a CARON product we invite you to carefully read the ingredients list printed on the packaging to be sure that this product is suitable for your personal use.
INGREDIENTS (COCTAB) : ALCOHOL DENAT.. FRAGRANCE/PARFUM. WATER/AQUA. HYDROXYCITRONELLAL. LINALOOL. BUTYL METHOXYDIBENZOYLMETHANE. BENZYL ALCOHOL. CINNAMYL ALCOHOL. CITRONELLOL. GERANIOL. AMYL CINNAMAL. LIMONENE. ALPHA-ISOMETHYL IONONE. BENZYL BENZOATE. BENZYL SALICYLATE. EUGENOL. FARNESOL. CITRAL. CINNAMAL. ISOEUGENOL. CI 15985. CI 19140. CI 14700. 82% Vol.
Our clients are sharing their feelings
Narcisse Noir, my identity
I have been wearing Narcisse Noir for over forty years, since I lived in Paris during my university years. It is my true identity, and I am lost and undefined without it. I never share the name of Narcisse Noir as it is private and sacred to me, although many ask. Please never discontinue this magical perfume! Mille mercis ☮️.
Valérie
Le Narcisse Noir
Je réitère mon plaisir puisque je viens de me ré- approvisionner d'une recharge du Merveilleux Narcisse Noir, si judicieusement placé dans la collection des Grands Caron mythiques.
Afin d'exprimer sa beauté flamboyante, il faudrait tremper notre plume dans un arc-en-ciel.
Three Generations of adoring Narcisse Noir
Like others, I used to watch my very glamorous and beautiful Mom get dressed, and then the last step - the Narcisse Noir. She would laugh and tell me and my sister that when we were 21 or married, we would get our first bottle of Narcisse Noir perfume. But never before because it was far too dangerous and alluring! I finally was able to find it online here, to give to my daughter who was delighted. She remembers me getting ready to go out and use it. She put some on, my grand-kids just adored it, and then later she had to get gas. She called laughing, and said "Mom, this old, really older guy just did a head snap and grin when I walked by! Grandmommy was right - it's dangerous!" We love you, Caron, and that lovely Narcisse Noir - now three generations worth.
40 ans de narcisse noir! Le plus fabuleux des parfums.
Très inquiète que l eau de parfum ait disparu! C un parfum mythique!
LE NARCISSE NOIR
Pour mon premier test de Narcisse Noir, je n'ai pas eu le coup de cœur. J'avais l'impression d'une odeur de soufre après les premières notes.
Puis, au second essai, ce surprenant Narcisse Noir est entré en symbiose avec ma peau et par une mystérieuse alchimie, a dessiné une arabesque olfactive exceptionnelle.
Narcisse Noir est un parfum hors norme très caractéristique; il laisse son empreinte dans le souvenir...Sa reformulation fait honneur à l'esprit de ce génie :
Ernest Daltroff qui a fait rayonner, par ses créations, la Parfumerie Française à travers le monde.
Merci infiniment pour ce grand bonheur
Our selection
You should also like