My Account
Already customer
We've sent you an email with a link to update your password.
Winter is an opportunity to rediscover the wide olfactory spectrum that tobacco, the Maison's mythical ingredient, has to offer.
CARON is here for you this January with the Luminous Tobaccos collection.
Celebrate the new year with a bold fragrance, Tabac Blond.
Snuggle in the enveloping scent of Tabac Blanc.
Treat yourself to the gourmand accord found in Tabac Exquis.
Warm up with the wafting scent of spice and warm wood emanating from Tabac Noir.

TABAC BLANC
Treat yourself to a comforting moment
Tabac Blanc is a deeply regenerating fragrance. The most luminous facet of tobacco is revealed in a maté-cocoa accord lifted by woody notes of cinnamonand the intense aroma of vanilla .
TABAC EXQUIS
Enjoy an Epicurean break
Surprising and voluptuous, Tabac Exquis explores the suavest facet of tobacco, infusing it with an indulgent chocolate accord.

TABAC NOIR
Warm up in the opulent aroma
Composed with notes of spice and warm wood, patchouli underscores the most oriental facet of tobacco. Tabac Noir is a fragrance boasting an incomparable intensity.

TABAC BLOND
Embrace 2023 and challenge all the codes
Tabac Blond is a revolutionary scent launched in Paris during the Roaring Twenties. Its deep, leathery and honey-like note of tobacco has become the symbol of our audacity. Elevated by powdery and sensual carnation, the tobacco becomes wonderfully ambiguous and confounds all conventions.
Tobacco, a multifaceted ingredient
A plant with a plethora of potential, tobacco holds secrets that only the perfumer can unlock. Whether picked while still green or ripe, dried, smoked or burnt, their leaves open up a wide range of possibilities. Multifaceted, tobacco absolute also reveals notes of white tea or cereals, as well as more honey-like aromas, finishing on animalistic and leathery notes.
This extremely rich ingredient inspired Jean JACQUES, CARON's in-House perfumer, to dedicate an entire collection to tobacco in the Luminous Tobaccos.
Our Ingredients
The perfumer's note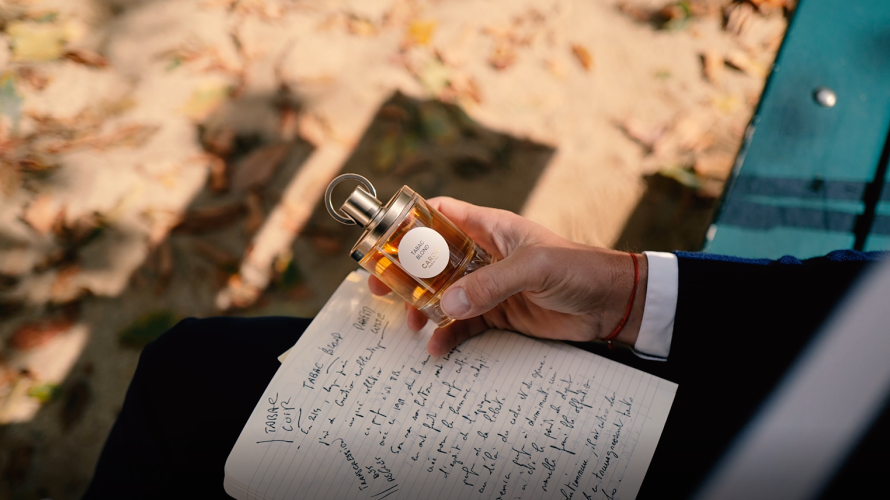 You must accept cookies to play this video
Infinitely refillable
Our bottles of the Luminous Tobaccos collection are refillable with their 100 ml aluminum refills. Receive your refill with a spout, and refill your favorite Tobacco forever.
At the origin of the collection, Tabac Blond
With its visionary inspiration, Tabac Blond was born with the seed of a masterpiece in 1919. This is the beginning of the Roaring Twenties. A wind of optimism, boldness and freedom is blowing through Europe.
Its name takes inspiration from Virginie's tobacco of choice, a tobacco brought over to Europe by the Americans during the war. Initially composed for men, Tabac Blond was quickly adopted by the "flapper girls" of the Roaring Twenties, who delighted in playing with gender constructs through their scent. Tabac Blond becomes the symbol of their emancipation.
The first leather-dominant fragrance in history, Tabac Blond paved the way to a brand new fragrance family: the leathers.
OUR HISTORY
ALL OUR FRAGRANCES
Discover all of the Maison Caron fragrances.
Discover